Bill C-51 protest
In the strangest places we sometimes find our focus. For me it has always been on the street connecting with average Canadians looking to have their voices heard. This image from the bill C-51 protest in Toronto is my best photo from 2015. I think it captures the essence of the frustration and hope Torontonians felt when they took to the streets this past March.
Pride flag raising at Toronto City Hall
Toronto mayor John Tory smiles as as the Pride Flag is raised at Toronto city hall marking the beginning of Pride week. The flag raising was also a symbolic break from the previous Ford era of disconnection to the Toronto LBGTQ community. A welcome change and a moment I was proud to have captured.
Untitled
I came across this cute little fisherman while scouting for a wedding in August.
Untitled
I don't really know what yo say about this image. I think it speaks for itself rather well. All I can say is it was a lucky capture, one of those moments where your unconscious mind registers more than your conscious does and your body just reacts. Point and shoot.
Behind the scenes of Toronto's Pride Parade
Constable Tim Boniface from the Waterloo Regional Police Force, ponders the best location to attach rainbow flags to his motorcycle. "They vibrate a lot, so they don't stay on very well."
Jack's first photo shoot
I almost didn't do this shoot. When I was originally asked by some close friends, I declined. It wasn't my speciality and I was concerned about not being able produce the images they wanted. However I eventually caved and I'm glad I did. I researched infant photography, learned some new tricks and in the end produced images that both my friends and I very are happy with.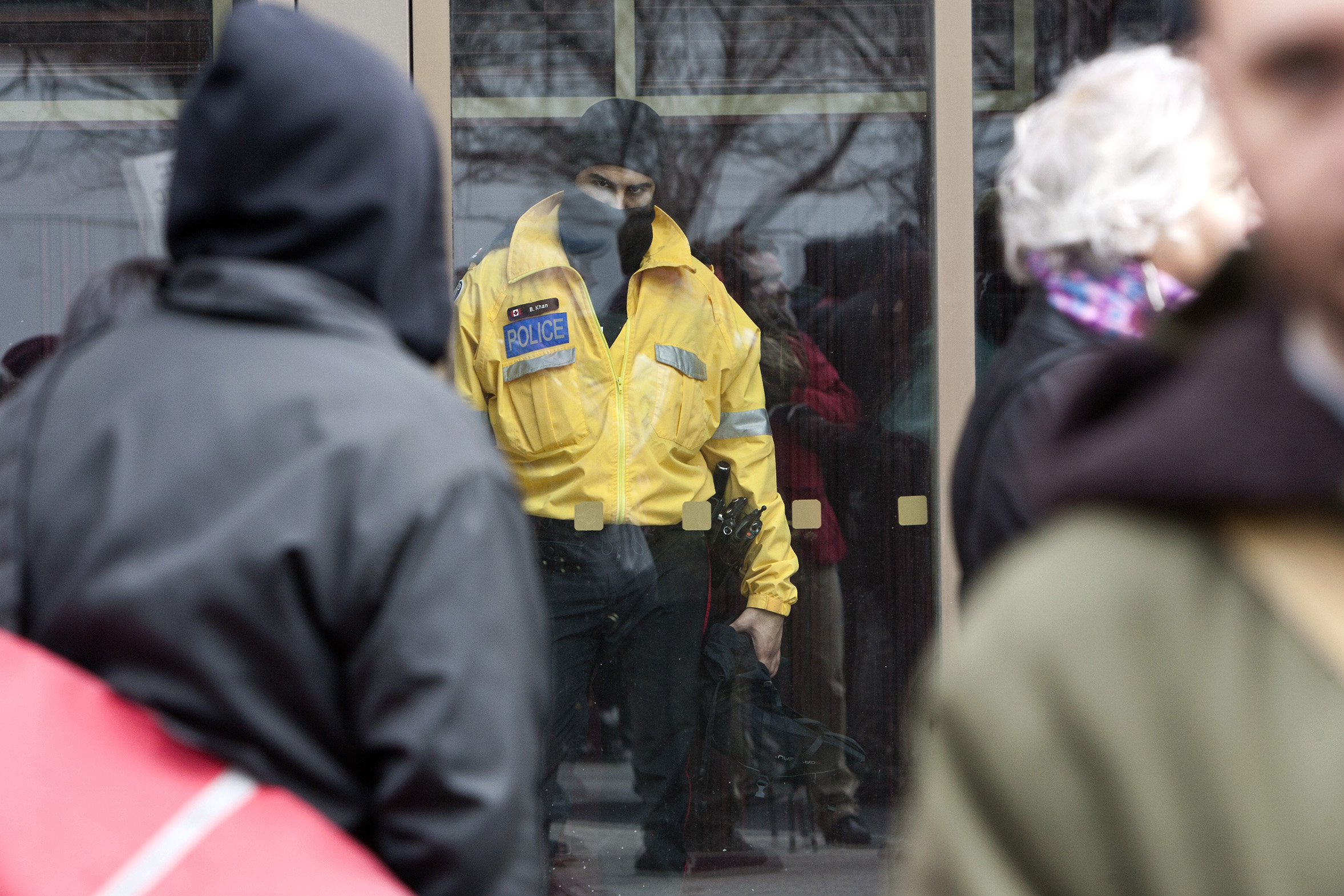 Bill C-51 protest
While I feel my earlier image of the C-51 protests tells the civilian side of the story, this image is the polar opposite. A balaclava ladened police officer, glaring directly at my camera; he is quite literally on the opposite side of the civil action the citizens he serves and protects are partaking in.
Toronto Pride 2015
I just love motion in images. With those pom-poms moving in unison, there was no other way to capture the moment.
Drag Show
Pride was incredibly rainy this year, and when not worrying about breaking a camera body, all that water allowed for some creative photo oportunities.
Pussy Riot
International music stars and activists Pussy Riot, speak out against homophobia in Russia while attending Toronto Pride.
Sam & Ellen
This August I had the privilege of photographing Sam & Ellen's wonderful wedding. Their spiritual ceremony was Pagan and held in a grove of trees. Aside from the bride, groom and their priestess, only myself and my assistant were present. It was truly a once and a lifetime kind of wedding to shoot.
Federal Election 2015
Bill Morneau is elected to Toronto centre.
Mundane Flowers
This girl just looked so unimpressed with her lovely bouquet of flowers. I wonder if she was unimpressed with having received them, or disheartened with the prospect of having to give them to someone else.
Behind the scenes of Toronto's Pride Parade
Balloons reach out from the back of a CUPIE float as a volunteer walks past.
A look back to my best images of 2015.
Read More